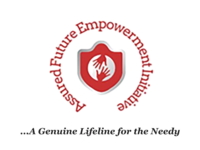 Meet Our Volunteers
Meet Temitope Kolawole
Temitope Kolawole is an Economist and Financial Analyst who is souled out to social works. Temi Collinz as he is called by his friends, grew from nothing and by providence, enjoyed numerous scholarships which his parents could not afford.
His academic excellence gave him the opportunity paved ways for him that was shut by lack of funds from his parents. His passion for the betterment of humanity birthed the initiative. Not forgetting how he climbed up the ladder of uncertainty and how he was spotted during and academic screening having done well, Temi has decided to give back to the society by helping children who should be in school but aren't, go to school. Temi remarked, "This is a missionary work where hope is restored, people are motivated and guided all through their lifetime to help them live purposefully and ensure they are saved."
Meet Issy Dedeoglu
Issy Dedeoglu is a German law student and member of the FeG church in Lüdenscheid where she works in a youth group. Her motivation is to help others, talk about Jesus Christ and lead them in situations where they need her help. Her aim for the future is to become a helping and caring lawyer to make the world be a better and more righteous place based on the word of God. She is passionate about humanity and her well being.
Meet Daniel Otabor
Daniel OTABOR is a transformational and inspirational speaker. One whose love for the development of youths is second to none. He has trained and coached youths around the world on leadership and personal transformation for peak performance. Daniel OTABOR has been invited to give keynote speeches in some of the prestigious universities in Nigeria, universities such as Covenant University, Obafemi Awolowo University – Landmark University – Joseph Ayo Babalola Univeristy – University Of Ibadan – Federal University of Technology, Minna, – Federal University of Technology, Akure and other universities in and outside of Nigeria. Otabor believes everyone deserves a chance to show what they are really made of and that includes creating platform for them to succeed. His personal mantra is "greatness can be unleashed by anyone".
Meet Oluwole Mibiola
Mr Oluwole Mibiola grew up in Nigeria and bagged a Bsc degree in Mechanical Engineering from Obafemi Awolowo University, Nigeria. Upon graduation, he worked for just over 2 years with Globacom Nigeria Ltd before moving to South Africa to pursue a postgraduate degree.  He holds 2 different Masters Degrees in Finance and Investments as well as in Technology Management from University of the Witwatersrand and University of Pretoria, South Africa respectively. He is an asset management professional having worked as an Investor Relations Consultant with the biggest privately owned Investment Management Company in Africa - Allan Gray (Pty) Ltd. He recently moved to the Economists Group Intelligence Unit as a Management Consultant. Furthermore, Oluwole is a founding member of Assured Future and Empowerment Initiative. He is also an entrepreneur having co-founded an educational toy company with operations in Nigeria, Ghana and Kenya. Moreover, Oluwole is proponent of quality education, an advocate of women empowerment and a lover of children. When he is not working as a Management Consultant or rendering his humanitarian services through AFEI, he is either playing and watching Lawn tennis, soccer or backpacking through different cities.
Meet Adebayo Hassan Ola
He obtained a Bachelor Degree in Computer & Information Science from the University of Ilorin – Ilorin, Kwara State of Nigeria. He is a registered Certified Internet Webmaster with over 8 years post-graduation experience, Member of Computer Forensics Institute of Nigeria, Member of International Engineers and a member of Nigeria Computer Society. He is a consultant with the Bureau of Public Service Reforms (BPSR) on World Bank - ERGP (Phase I) Project. He has remarkably proven abilities to manage programs, multi-functional and operational teams for the purpose of businessimprovement. Confirmed expertise in combining business-drive objectives with technology and systems, to create strategic and tactical direction focused on minimum investment and realistic solutions. Known for strong leadership and motivational skills that consistently produce positive change.
Meet Wumi Praiz
Wunmi Praiz is a renowed geographer and evergreen Gospel artist. His passion for humanity and inbuit creativity lead to his involvement in humanitarian services.
Meet Opeyemi Kolawole
Opeyemi is a vibrant Assistant Superintendent of Police (ASP) with the Nigeria Police Force, He is incharge of all security affairs and related issue.
Meet Ajayi Jerry Oluwatosin
My name is Ajayi Jerry Oluwatosin. I have always believed in giving and helping others in need. I'm curious about almost everything that I know/want to know. Actually, my curiosity is something that's insatiable. I love music and sports, football actually. I am an IT engineer and a data center supervisor. I work with RTcom Nig Ltd. Responsible for the monitoring, analysis, and break-fix management of the network infrastructure, which is comprised of local and remote signal offices, data centers, data/telecom equipment closets, servers, routers, switches, and associated support equipment including UPS systems, climate control systems, standby generators, fire detection/suppression systems, and water detection systems.
Meet Lilli Salzseiler
My name is Lilli Salzseiler. I am a German law student and a member of the Refugee Law Clinic in Trier,Germany. My motivation is to help people around the world (especially refugees) by using the law to create a safe and stable environment
Close